It's been several months now, so I no longer wake up in strange European hotels craving freshly squeezed orange juice or Nutella-flavored Gelato or pain au chocolat. That stuff has worked its way out of my system. I also no longer have blisters on my feet and now have air conditioning aplenty.
Last summer I got to spend a month in Europe. In 5 weeks I was able to visit 6 countries (took the train through Switzerland and stopped at the station in Geneva, so I'll count it). It was one of the awesomest months of my life. Read the rest of this entry »
When I was a bookworm of a kid I loved to read books from the Choose Your Own Adventure series.  The books were unique in that at the end of each chapter you were confronted with 2 choices.  The alternatives would be things like, "to attack the dragon turn to page 10" or "to challenge the dragon to a dance-off turn to page 15".  You'd pick an option, then read the results of that selection before facing another pair of choices.  Depending on the writer, if you chose the dance-off, you and the dragon might end up as Solid Gold dancers, or you'd be a crispy noodle in Chinese dragon stir-fry.
When I'd reached the end of the book, or the end of the sequences I'd chosen, I would go back and read the book again, picking the other alternatives (fainting goats/epileptic sheep).  Sometimes I would peek ahead all along.  Often a different result was better.  Occasionally worse.  Sometimes the alternative was just different.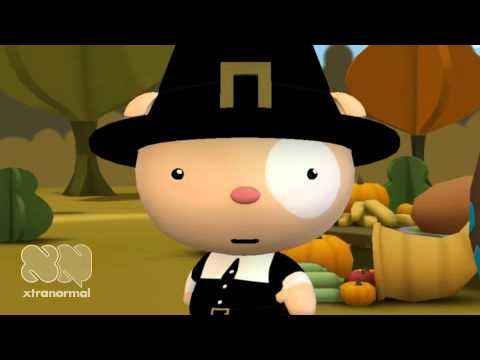 Over Christmas, I visited my brother Jay & his family & our recurring themes of obnoxiousness included the young Willow Smith's "Whip My Hair" & Far East Movement's "Like A G6". One early holiday morning, Jay woke me up blaring "Whip My Hair" at an alarming volume. It was special (yeah, we're in our 30s).  Short of making an awesome Mashup of "Whip" & "G6" to immortalize this memorable holiday moment, I've made an animated video. Sort of. I used Xtranormal's awesome online software & of course they're running a contest now, so I entered it & whoever gets the most views by the end of the month wins $1000!  So, watch this short over & over until you memorize it & get sick.  Oh, and you can enter, too, if you really want.
Here's a description of the video:
Verily, dost our Pilgrim recount a tale of Coachella and the hair whipper. Our Indian mostly has food on his mind. Like a G6.
Last Sunday I climbed off a cruise ship after a fun week of rocking (and extreme rolling) and still felt the waves for 5 days afterward despite the solid stuff beneath me.  The cruise included a mission-y element and I met with some of my former college classmates and various church gang members as we traveled around the Caribbean getting our cruise on.  It was my first cruise.
The plan was to do projects at most of our ports (for schools, orphans, sick people, people needing new roofs, etc),  while we enjoyed the weirdness of life at sea on a fancy boat with an everlasting buffet.  However, because of bad weather (high waves and wind measured in knots) the boat couldn't stop at the 1st 2 ports (including Jamaica), vases broke, & some folks got sicker than dogs.  Still, we were able to complete our planned projects in the Cayman Islands & did a few ad hoc things on the ship, so it wasn't a complete foul up.  In fact, I really enjoyed my time and met some cool people in shorts who played Catchphrase in December.  I even got to climb a Mayan pyramid in Mexico.  That was awesome!
I might extrapolate deeper meaning from it all one day, but for now I just wanted to give a shout out to my Cruise With a Mission peeps.  So, hey.  Yo.  Miss you guys.  Merry Christmas!
And Merry Christmas to you, my fine goat-readers.
The secret phrase is motion sickness
Related Posts
As you roast your chestnuts, drink your egg nog, and bake tasty Christmas cookies, you probably find it fun to set the rest of the holiday milieu by playing your favorite Christmas tunes on your hi-fi as you rock around the Christmas tree in your worst festive sweater.  I'm sure you have your favorite Christmas music and of course I have mine.  These are my 11 Favorite Christmas Albums.
There's a small chance of snow tonight here in Huskerland, and I only have some of the yard work done.  Treefuls of leaves have been bagged, but more leaves have offered themselves sacrificially for collection (thanks, leaves).  I've only cleaned half the gutters because I need a taller ladder for the front of the house and I don't really want to climb the roof.  Chicken and lazy.  It wouldn't be much snow, but it's all downhill from here, baby.  So, before winter gets its freak on, instead of actually finishing yard work, I thought I'd pay special tribute to the awesomest season I know, autumn. CONTINUE READING >>>
by Sir Jonathan Boniface Perry
My fellow blog readers, we do not harass Caesar with tickle fights to haze him, but to Epilady him because he's Mediterranean and obviously pretty hairy (Mediterranean men recognize their condition and are not offended.  Especially Caesar.).  Yea, verily, here's the state of the bachelor:  Hungry!  No, really, here it is:
1. Whenever the theme song for "The Office" plays, I make up another song on the spot and sing it over the top of the theme.  Sometimes there are lyrics which may or may not include "Shake your butt.  Shake your butt, baby."  I'm working on that.  On a related note, I'm sad to hear that Steve Carell plans to leave the show at the end of next season.  Bummer.
2. Last week I was accidentally subscribed to Ladies Home Journal.  Also Parents Magazine and Family Circle.  Probably a sweepstakes entry gone bad, though I don't rule out a clever prank.  My issue of Family Circle arrived in the mail today.  Really, I did cancel them.
3. Found a dead bird.  1st bird this year.  3 last year.  My yard might be cursed.  I also suspect vuvuzelas.  Or soccer in general.  I left the bird because it was on the edge of the yard and had already been sitting several days.  It smelled a bit & its little claws were sticking up all twig-like.  I mowed around it, so there's a small square patch unmowed on the side of my front lawn being fertilized a special way.
4. Yes, I realize DB could also stand for Douche Bag.  Oy.
5. I traced several lines of ancestors back into Switzerland for a few hundred years to as early as the 1500s. Crazy awesome! That's 500 years!  Didn't know we had any Swiss.  I knew about a few of our German lines, as well as Chippewa, Cherokee, likely Welsh and Dutch, but not about the Swiss.  Still haven't found how my dad might be related to Benjamin Franklin.  (More to come later on this genealogy business.  Probably.)
6. Average daily blog hits in June- over 100!
7. Found a great Belgian Chocolate Gelato sold by the pint at the supermarket.  Need to quit buying it so I can lose weight.
8. (Update on nicknaming post.) a)Darrin at work has started calling me Pretty Pretty Princess.  Retribution is required.  b)I'm trying out other nicknames for Paul J. who was non-plussed by the nickname Paulina.  Paolo was also apparently inadequate.  I'm thinking Polyglot or something else with Poly-.  Maybe Polymer (not Polyamorous).  c)Still need a good nickname for Randy besides Bookie and Wizzer (not a spelling error from me).  Randalina doesn't quite do it.  Maybe the Great Randini. d) Nickname for Dave Micek, DJ Mice K, is still super awesome!
9.Today, the aforementioned Apollo Polyglot at work guessed I was only 27 years old (he's 10 yrs off).   This, of course, rocks.  Not sure whether this guess was based on my maturity or if my vampire white skin is paying off.
10. Need to renew my passport for that cruise in Dec.  It needs to be valid for 6 months after the trip, but mine would only be good for 5 1/2 months after.  Oh, hey, I'm taking a cruise.  I'll sunburn in style.
11. I now have over 13,000 songs on my iPod!  Sure, a few hundred tracks are chapters of audio books.  Sure, I had to finally upload a few of those Mozart CDs last night that had been sitting around unused for a few years.  Sure, 135 of those tracks are of my own poorly recorded music and of those maybe 30 are duplicates.  Do I have a 2-disc set of a Bulgarian women's folk choir singing Bulgarian folk songs leftover from a world music binge in the '90s?  Yes, I do.  But I've reached a special milestone.  If you figure that each album averages 10 tracks, this would mean I should have about 1,300 albums.   According to my iTunes it would take 35 days to listen to this 58GB of songs.  Will I listen to all of these songs straight through uninterrupted over those 35 days?  I will not in a boat with a goat.  But I can, if I wish to kill myself that way.  Also, there is chocolate gelato.
12. Thwarted a kitchen invasion by ants last week.  They were probably displaced by the recent heavy rains.  I gassed my house with poison that probably was the cause of my subsequent sickness.
13. Put down 120 lbs of topsoil near the foundation of the house to fill low spots that were pooling with water during those heavy rains.  Need more.  A little water was leaking into the basement.  On a positive note, I could set-up a Slip-and-Slide in the garage.
In conclusion, that is the recent state of the bachelor.  Will there be changes?  Probably.  Will they be snail-paced?  Most certainly.   Will you have a good Independence Day/July 4th Holiday?  I hope so.  May the force be with you.
The secret word is Polyphonic
A Similar List:
Related Links:
Nicknaming Your Friends For Fun (and Revenge)
Other Linky Links:
Will Your Siblings Use Up The Good Names?
Children, Braid Your Nosehairs
Couples vs Singles: Socialization
Subscribe to the Domesticated Bachelor through RSS or link to one of the buttons below! Do it!
Related Blogs
As you may or may not know, I've been shedding pounds like snake skin since last April.  It had a little to do with improving self-confidence, especially around quiet bookish girls, and I've kept at it.  I lost 25 pounds pretty quickly (in 12 weeks), and eked my way to 30 lbs by Labor Day, but it's been slow going since.  I've even lost another 6-7-8 pounds, depending on the day.  That means as much as 38 lbs total since April (today is a fat day, so it might only be 36 lbs right now).  I've hit a wall, though.  I can't quite break the 40 pound barrier.  Inspirations and motivations have waned steadily the last few months and that might have contributed to my stagnation.  Also, my front lawn has become tundra and I seem to have rediscovered sugar (mostly chocolate).
Being a few pounds shy of 40 pounds for 2-3 months is a bummer, but I did well not fattening up for the holidays.  In fact, when I was in CA visiting family for Christmas, I went on several walks in my grandparents' neighborhood.  This, of course, was a necessary therapy that kept me from madness around certain relations, but it also kept me from becoming the Christmas goose.  In fact, I weighed in thinner than both my brothers for the first time in forever which is pretty awesome.  Now that my birthday is next week, Groundhog Day, even, I feel it's my duty to force the issue and finally reach the mythical 40 pounds by my birthday, even if I have to starve myself that last 36 hrs.  I'm pretty sure I could do it.  It's 3-4 pounds in about 7 days, so it'll be close, but I've done it before. It would be a cool birthday present.
Hitting those round marks is great.  20 pounds.  25.  30.  35.  By April Fools I'd like to hit 50 pounds.  Heck, why not by St. Patrick's Day?  Oh, the dream of thinness lives on.  Getting those good abs back by summer would be swell.  From there, who knows.  Maybe Gandhi-chic.
The secret word is bear.
Related Reading:
Becoming A Domesticated Bachelor: Step #4. Learn To Cook
My Bachelor Weight Loss Secrets: Sticking It To The Terrorists
Becoming A Domesticated Bachelor: Steps 8 & 9. Proper Socialization/Throw Parties
Becoming A Domesticated Bachelor: Step #3. Shape Up, Fatty
Stuffed French Toast By Sam The Cooking Guy
Subscribe to the Domesticated Bachelor through RSS or link to one of the buttons below! Do it!
Ok, B & B aren't actually celebrating my blog hits, especially since Bing is dead, but they wouldn't really care if they knew and it would be too expensive anyway.  The point is The Domesticated Bachelor has had 65,000 page hits since starting in February! (we're actually sneaking up on 68k)  I thought the best way to celebrate was with an Andy Williams Christmas clip from his old show.  Not able to find that, I thought this Bing and Bowie Christmas clip would be swell.
Davie Bowie made an appearance on Bing Crosby's 1977 "Merrie Olde Christmas" tv special, but nearly didn't sing with Bing.  About an hour before the show was to record, Bowie told the producers he didn't like the song "Little Drummer Boy" and wouldn't sing it.  Under pressure (nudge wink), a few of the writers got together and wrote an extra part, "Peace On Earth", and cleverly joined it with "Little Drummer Boy" into a nice counterpoint mix piece called "Peace On Earth/Little Drummer Boy" that was a genius combo for a genius pairing of the then 30 year old Ziggy Stardust and the 73 year-old crooner.  The result was a cultural genre-busting epic song that was finally released as a single in 1982.
Interestingly, Bing's Christmas show was recorded September 11th, 1977, but a month later Bing died of a heart attack and the special aired on CBS November 30th that year (posthumous specials are extra special).
Thanks for visiting TheDomesticatedBachelor and come back again soon.  Without further ado, please welcome Bing Crosby and David Bowie in "Peace On Earth/Little Drummer Boy"!

Related Reading:
My 11 Favorite Christmas Albums
SOUND OF MUSIC DEATH MATCH!!! Liesl v Maria
Holiday Chocolate-For Independence Day?
Depeche Mode and High School Girls
How NOT To Decorate The Bachelor Pad
11 Steps To Becoming A Domesticated Bachelor: #s 8 & 9. Proper Socialization/Throw Parties
11 Steps: #10. Collect The Right Toys
Holiday Hosting Survival Guide with PM Chin
Subscribe to the Domesticated Bachelor through RSS or link to one of the buttons below! Do it! It's free and stuff.
by Jonathan Bing Perry
Whether you grew up listening to big band, prog rock, hillbilly, classical music, or some evil hybrid, you were likely exposed to some Christmas music at least a little each year and possibly relieved when the holidays ended.
Our vinyl record collection was crammed with Christmas music that filled the house for months and I grew to love it. It was the soundtrack to family traditions and youthful happiness.  I now have most of this music at my house and listen to it year round ad nauseum. To me, it's like comfort food or anti-depressants. It hits the spot.
These are my favorite Christmas albums.
1. Andy Williams-Merry Christmas
2. Andy Williams-The Andy Williams Christmas Album
These 2 gems of the '60s are fantastic, combining a smooth baritone voice with great big band-ish arrangements by Robert Mersey.Classics include Happy Holiday/The Holiday Season, It's the Most Wonderful Time of the Year, Sleigh Ride, and Christmas Holiday. Andy Williams had terrific Christmas TV specials where he sang with his brothers and the Osmonds on beautifully staged sets. About 15 yrs ago my family saw AW's Christmas show at his theater in Branson, MO, and though he's much older, he's still sounds great. For me Christmas isn't the same without Andy Williams.
3. Bing Crosby-Merry Christmas
Irving Berlin's White Christmas was the perfect vehicle for Bing Crosby, or perhaps it was the other way around. Either way, it was a perfect marriage of sound. This bestselling song even became a feature of a few Bing movies (including Holiday Inn & White Christmas). White Christmas is included here with 11 other Christmas songs rendered with Bing's unmistakable voice. My other favorites are Christmas in Killarney, It's Beginning to Look a Lot Like Christmas, and Mele Kalikimaka.  Who can resist the piano tinkling beginning of Jingle Bells?  (And, no, his Little Drummer Boy duet with David Bowie is not here. That came almost 20 years later, but it's way awesome.)
4. King's College Choir: A Ceremony of Carols, by Benjamin Britten
I was introduced to this Christmas Cantata when I was about 12 and sang it in the Waco Boys Choir with my brother Jay. In 1942 Britten adapted Middle English & Latin texts into a cantata setting for a boys' choir with harp accompaniment. The melodies, harmonies, and rhythms are unparalleled. The recording I have is from Argo and it includes Britten's 'Rejoice in the Lamb' and 'A Boy is Born'.  This is one of my favorite pieces of choral music.  I've even messed with writing my own Christmas Cantata and Britten's work is what I'm aiming for.
5. Ed Ames-Christmas with Ed Ames
This is one of those albums we had on LP and that's the only way I have it now and of course my record player is on the fritz. My favorite songs are The Ballad of the Christmas Donkey and Sweet Little Jesus Boy. I really don't know much about Ed Ames, but it occurs to me that we had plenty of Christmas music by baritone crooners circa 60s (we never had Sinatra, though).
Other Notable Music
6. The Messiah, by Moe (CB) Handel
Probably most recordings will serve adequately, except for some modern-day renditions (read crappy 80s rockified/soulified). There are plenty of highlights in Handel's most renown work, though much of it is essentially a collection of themes and variations with nutty ornamentation to show off how long singers can go without breathing. Still, there is a soft spot in my head from having sung it so many times and it has wormed its way into my life. Pre-puberty I sang the alto solo, O Thou That Tellest Good Tiding To Zion, at an opera house in Mexico.  A few Christmases ago I sang along with some of the other choruses when my brother's church had a sing-along. The Messiah was the climax of the program and I was reminded how much I really do love it.
7. 'The Nutcracker' Ballet Suite, by P. I. Tchaikovsky
Sugar Plum Fairy.  Sugar Plum Fairy.  Great delicate and mysterious music. Another total Christmas piece. Excellent stuff. Definitely required Christmas music.  The ballet can be pretty good, too, though I usually manage to fall asleep somewhere in the middle.  Something about extended dream sequences.   The classic album I like has Eugene Ormandy conducting the Philadelphia Orchestra.
8. & 9. Music Box Christmas music
We had 2 LPs of Music Box Christmas music: 'The Charm of the Old Music Box' and 'A Music Box Christmas'. These were both pretty cool.  I've always enjoyed the sound of music boxes and combining that sound with Christmas music makes something pretty magical.
10. Mannheim Steamroller-A Fresh Aire Christmas
Yeah, I like this one, too.  Part electronic gizmo, part elevator music.  The main dude is from Omaha, not far from me.
11.  The Chipmunks-Christmas with the Chipmunks
Ok, I'll throw a bone to my friend Roland, who digs the C-munks in an unholy way.  My brothers and I grew up with the squeakiness of Alvin, Simon and Theodore, and were pretty fond of the beasts.  My young nephew kept asking to hear it over and over 2 Christmases ago and we humored the boy at the risk of our sanity.
(One of my friends suggested I make a list of 'bachelor Christmas music' that might include Rat Packers like Dean Martin and Frank Sinatra.  These guys seem like the appropriate martini bachelor types who would hold up the genre with aplomb and fit neatly with bachelor pad entertainment.  Oh, and Perry Como.  But I didn't listen to them so much.  I'll catch up with these dudes later and maybe next Christmas provide a comprehensive swingin'/chillin' bachelor Christmas list full of Rats, Nats and Comos.  The baritone crooners I have included, Bing, Andy and Ed, will narrowly fulfill my bachelor-style music requirements for now.)
-What are your favorite Christmas albums and why?  Did any of your favs make my list?
The secret word is crooner.

Related Reading:
30 Favorite Songs of 2009 (1-15)
SOUND OF MUSIC DEATH MATCH!!! Liesl v Maria
Holiday Chocolate-For Independence Day?
Depeche Mode and High School Girls
How NOT To Decorate The Bachelor Pad
11 Steps To Becoming A Domesticated Bachelor: #s 8 & 9. Proper Socialization/Throw Parties
11 Steps: #10. Collect The Right Toys
Holiday Hosting Survival Guide with PM Chin
Subscribe to the Domesticated Bachelor through RSS or link to one of the buttons below! Do it! It's free and stuff.
by Jonathan Bogman Perry
I think leaf-peeping sounds like it should be a punishable offense.  It would be cool to do, but it just sounds dirty.  Anyway, it's autumn and time to start taking care of the fallen leaves and wrap up the yard work.  For about a decade after college I lived in a duplex apartment that was pretty unfit for humanity.  There were advantages, though, one of which was the great non-problem of yard work.  I didn't have to do it.  It's one of those odd benefits of apartment living.  I actually lived in a basement duplex, so there was a yard on the property and, from time to time, such as when I was dissatisfied with the state of the acreage, I took matters into my own hands and cleaned up my area by trimming back some bushes that had taken to regularly whacking me or removed a discarded refrigerator which has somehow blown into the yard.  Yard work wasn't required of me by the lease, nor, apparently, was it required of anyone.
The thing is, I do actually enjoy yard work and have fond memories of doing it in ages past.  I find it even more satisfying now to do at my own place.  I affectionately remember during my youth going kicking and screaming to mow the lawn at the threatening behest of my folks, whom, I should add, I love dearly, but might have been evicted by the neighborhood association had it not been for my infrequent yard maintenance.  During my near decade of college I would come home once every few months to find that the jungle in my parents' backyard had managed to swallow most of the yard tools and several large and endangered mammals.  Of course, I wasn't the only one to do the yard work.  I do have 2 younger brothers, but either one brother managed conveniently to be overseas in Europe for the school year, or the youngest had a debilitating broken toe which prevented any physical activity besides walking 2 miles to school each way or dancing in the school musical (I really wanted to say 'run on the track team', but that's just not so).
I enjoy raking leaves during the crisp autumn afternoons, building great piles of arboreal death, but I would enjoy dental surgery if it were outside in the fall.  Autumn is always thrilling with the fantastic foliage colors of red, orange, brown, and yellow and the nip in the air that promises a brisk winter right around the corner.  These are the days of the holidays and refreshingly happy vacations.  It's when sports get fun again.  I'm sure I would very much enjoy New England in the fall.  It's a fantasyland that I have yet to experience.  Perhaps one day when I finally grow up and become a man I'll move out to New England just so I can be there in the autumn to happily rake up the mountains of fallen leaves that have swallowed the yard and a lost California Condor or two.  I'd probably just leave them there.  They're so pretty.  The leaves, too.
Vaguely Related Reading:
The Prophecy Of The Tornado And the Trailer
How NOT To Decorate The Bachelor Pad
Bachelor Step #10: Collect the Right Toys
Bachelor Step #1: THE BACHELOR PAD
$15 Million Ultimate Bachelor Pad

Tenuously Related Reading:
Logan's Run & Population Control
Sound Of Music Death Match!!! Liesl v Maria

Celebrity Crushes: The Girl Next Door

Which Is Your Type? A Pseudo-Cosmo Quiz

Subscribe to the Domesticated Bachelor through RSS or link to one of the buttons below! Do it!
by Jonathan B. Perry
For Memorial Day weekend I visited my brother Jay in Minnesota. I live in Nebraska, so it's a drive of about 6.5 hours over plains and hills of corn to lakiness with trees, mosquitoes and mutant frogs. I had a super visit, and this holiday drop-in was even a little different from our normal visits. Jay's wife and their awesome little boy went to Michigan to see her family. Jay stayed behind in MN to see me. Excellent! I especially missed not seeing my four year-old nephew, but was spoiled having Jay all to myself. Even though I've gotten over the fact that he's been married over a decade (and is now sort of a Cubs fan by proxy. Boo. Go Giants!), it's still a rare and special thing to hang out with him in his solo state.
It was like being back in college and living together in the dorm again: the Perry Brothers staying up into the wee hours and talking about nothing, except now we're in our 30's and there's the specter of work lurking in the back, as well as mortgage refinance talk and not a lick of school. And for Jay, a wonderful family. Yes, we still had our responsibilities, but could vaguely pretend them away for a few days (at least I tried to). We even toured part of the greater Minneapolis area, which included Minnehaha Falls and the Ikea store. Oh, and the Mall of America.
What if, at a moment's notice, you could be free of all your adult responsibilities? Fold up your grown up stuff and stick it in a box in the garage for a bit. It'd be like those childhood summers where you'd sleep in and do whatever you wanted to all day, every day. No work. No school. The adults would be away at work, so there'd be no one around to hold you responsible for anything. You could go down to the creek, play video games, watch tv, read comic books, eat junk food, swim.
But like all summers, they end and you have to go back to school or your job and mortgage and student loans. Back to life. Back to reality. (hum relevant 80s song). Plants must be watered. The lawn needs to be cut. The cat missed you and threw-up all over your sofa in retribution, so you have to clean that up, too. This visit with my brother was a special sanctuary from the real world and I look forward to savoring the next one. We really should do more of these. He could even visit me and I could drag out the Sibling Bonding Rituals I wrote up many years ago and forget they're super lame. Yes, the sibling bonding time is the best. I do want to see my nephew, though.
Further Reading:
Family Advice: A Reversal (Sort Of)
Will Your Siblings Use Up The Good Names?
Couples vs Singles: Socialization
Changing Your Relationship Status On A Social-Networking Site
Subscribe to the Domesticated Bachelor through RSS or link to one of the buttons below! Do it!