(This is an edited version of the life sketch/eulogy I gave at my mom's memorial service in CA 2 weeks ago today.  Anything I could say about mom would be thoroughly inadequate.)
Early Years
Sherry Perry was born Sherry Lee Hinkle on February 10, 1950 in Glendale, CA to Dr. J L & Myrtle Hinkle.  Grandma once described my mom as a wee thing who was an easy baby to carry around.  All of grandma's other babies, except for Judy, were bruisers, weighing in at 8 pounds.
When mom was about 2 years old, grandpa was stationed in Germany as an army doctor, but was soon joined there by the family: Sherry, baby Judy, and grandma.  Not long after, Marcia was born in Wurzburg Germany.  Grandpa was in Germany about 2 years.
Read the rest of this entry »
I spent a fun 4th of July with my brother Chris and his family picnicking and watching fireworks.  In their backyard at lunch, my adorable 8 year-old niece sat next to me at the picnic table and asked matter-of-factly, "So, Uncle Jonathan, how old are you now?"
I paused a long moment, then mumbled into my veggieburger, "Thirty-ish."  Fully expecting her to be agog at my ancientness (and near falsehood), I was a bit surprised when she calmly continued her line of questioning.
"Thirty-ish."  She pondered my answer.  "And are you dating anyone?" Read the rest of this entry »
Weirdly, breakfast is the one meal where you eat dessert as a main course.  Think about it:  Froot Loops and Lucky Charms, pancakes and waffles with syrup, crepes and blintzes, coffee cake and danishes, Pop Tarts and doughnuts.  It's insane!  (I had some chocolate this morning to 'test' things.)  And Dutch Apple Cake.  I'm not sure what makes it a breakfast food.  Often, my Grandma Gottschall's Dutch Apple Cake is served warm in a bowl with milk poured over it, so maybe that does it.  Mom and grandma made Dutch Apple Cake for those fancier breakfasts (foodfight-free fests) when we'd all chow down together in a meaningful way.  This happened at least once yearly. Read the rest of this entry »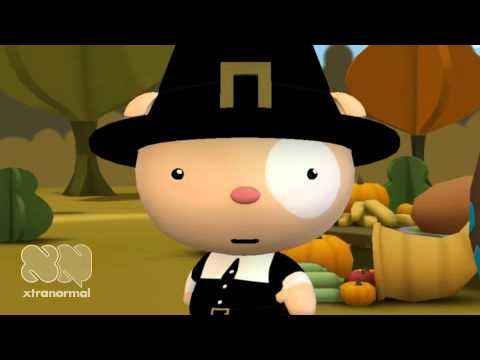 Over Christmas, I visited my brother Jay & his family & our recurring themes of obnoxiousness included the young Willow Smith's "Whip My Hair" & Far East Movement's "Like A G6". One early holiday morning, Jay woke me up blaring "Whip My Hair" at an alarming volume. It was special (yeah, we're in our 30s).  Short of making an awesome Mashup of "Whip" & "G6" to immortalize this memorable holiday moment, I've made an animated video. Sort of. I used Xtranormal's awesome online software & of course they're running a contest now, so I entered it & whoever gets the most views by the end of the month wins $1000!  So, watch this short over & over until you memorize it & get sick.  Oh, and you can enter, too, if you really want.
Here's a description of the video:
Verily, dost our Pilgrim recount a tale of Coachella and the hair whipper. Our Indian mostly has food on his mind. Like a G6.
by Jonathan Boxlunch Perry
Recently, I visited my mom in Minnesota, and while there I took the opportunity to dig through her recipe boxes and copy my favorite recipes for yummy happy eating time.  Fortunately, I had my camera, so I just photographed them.  You didn't think I was going to hand copy 25 recipes in one sitting, did you?  I'm not a medieval monk.  In fact, during my visit, she helped me cook some stuff, even though she's been quite ill.  Actually, I helped her.  The food was delicious, I got fatter, we bonded, I practiced domesticity.  There you go.  This will help me circumvent having to call her for recipes.  I'll still call her, of course, being the doting son and mama's boy that I am.  It'll just be more for the weather report.  And tips on removing stains.  Stuff like that.  Oh, and to check up on her.
So we grow up with these tasty dishes and hopefully learn to make them ourselves or mate with someone who can make reasonable facsimiles and hope there's no withheld secret ingredient to throw off a recipe.  I mean, who would do that?  Who does grandma think she is, passing off recipes without all the ingredients?  Is there some posthumous cooking contest she's trying to win?  Her competition is either dead or senile in a home and  isn't allowed near the stove anyway for fear of a fiery death.  Or did she think Kellogg-Kraft was going to rip off her 10-layer lasagna and cash in?  And what if grandma goes to the great beyond before she shares her terrible secret (which is probably a teaspoon of cinnamon)?  I'll tell you what, you'll be stuck eating inferior food the rest of your life and may be forced to abandon family tradition for Martha Stewart's hoity-toity ringer recipe that requires obscure ingredients like Mongolian goat bouillon!  or whatever.  Well, that just won't do.  Also, I'm a non-goat-eating vegetarian.  Only fake-goat bouillon for me, thank-you.
I've helped my mom make many of these dishes over the years and can probably replicate them if forced at gunpoint, though quite slowly and not as expertly.  One thing I noticed while searching the recipe boxes is that many of these recipes were ones she acquired from her friends over a period of 50+ years.  They say things like "From the Kitchen of Linda" or Vicki or Arlene.  There are also those special recipes from my grandmas and even an awesome one from my great-grandma Gottschall:  Dutch Apple Cake.  Yum!  It's nice to know you're making something that your great-grandma made 80 years ago.  Perhaps she got the recipe from her great-grandma, pushing the baked goods lineage back a few hundred years into Europe when sugar was first making a diabetic splash (you try not to suspect the recipe was copied from a 1930s issue of Better Homes and Gardens).
I always look forward to my mom, grandma and aunts cooking for me.  They make great stuff and sometimes there are weird memories tied to the food, like that time mom made lentils and my brother Jay tricked her into giving him the birthright.  Good times (see Genesis).  But these moments are fading.  It's a good thing my brothers and I cook (well, mostly my brothers) or some of these recipes would just disappear forever and everyone would forget what Broccoli Jello Surprise tastes like (okay, that's not a family recipe).  Actually, I'm sure many have disappeared from generation to generation, which is sad.  Really, though, it's survival of the fittest recipes.  I only copied about 25 recipes, after all, not the full 200.  (I never claimed to be an archivist.  I'll get more later.).  But of the recipes I have, all the ingredients seem to be intact, which is a relief.  Everything tastes right.  No glaring omissions from grandma.  No wrong-tasting Special K Loaf.  No secret ingredients withheld.  Unless the secret ingredient is love (and that just seems like a therapy issue).
–Stay Tuned for a Bachelor Eating eBook!
the secret word is bouillon
Fooood Posts
9 Foods I Might As Well Move To The Bomb Shelter
Berry Smoothie & the Magic Blender
Easter Recipe: Mom's Creamed Eggs and Croutons
Becoming A Domesticated Bachelor: Step #4. Learn To Cook
My Bachelor Weight Loss Secrets: Sticking It To The Terrorists
Becoming A Domesticated Bachelor: Steps 8 & 9. Proper Socialization/Throw Parties
Becoming A Domesticated Bachelor: Step #3. Shape Up, Fatty
Stuffed French Toast By Sam The Cooking Guy
Subscribe to the Domesticated Bachelor through RSS or link to one of the buttons below! Do it!
Jon (Benny Lava) Perry
It's genealogy time in the bachelor cave.  It came up in conversation a month ago with Jeff, one of the main dudes at my office.  After a heated discussion on Nietzsche (not really) we somehow got into world travel or genealogy where I learned that, as a result of his genealogical research on Ancestry.com, Jeff would be traveling next year to a small town in the Czech Republic with his dad to see where their ancestors had lived.  Awesome!  Jeff raved about how easy it was to track family information on the site.  I mentioned how much I've wanted to do genealogical research to, among other things, discover my alleged family connection to Benjamin Franklin, rock star of the American Revolution and all-around genius-type.  My brothers and I grew up with the fairly unverifiable legend that Franklin is a shirttail relative.  And nailing my genealogy is on my lengthy bucket list (see the list here).  To my surprise, Jeff, wrote down his account name and password and graciously offered to let me use his account for the remaining weeks that were paid up on the site.  Going online, I took a crack at my family's information and was surprised by what I found.
My mom's genealogy is fairly sorted.  We have 2 large red genealogy volumes of the Hinkle side of the family that follow Lutheran missionaries from Germany to America in the 1600s and continue up through the twentieth century.  Also, a couple years back I sat down with my grandma and taped an oral history, learning a great deal about the Gottschalls in the process.  So, I started researching my dad's side which is less known to most of the family and from where come stories of a Chippewa (aka Ojibwe/Anishinaabe) Indian chief as well as the aforementioned Ben Franklin.  Right away I hit a dead end with my dad's dad's branch, the Perrys, the branch with the chief, though I was able to see a 1920 census document from Chicago with names of relatives scrawled out in that old timey handwriting.
Instead, I had much better luck tracking through my dad's mom's side of the family.  The Van Gundys.  Amazingly, within a few hours I'd gotten as far back as the 1500s in Switzerland (not actually Van Gundys, but several lines of their ancestors).  It was incredible!  500 years!  I had no clue we had Swiss blood.  From both sides of my family I'd known about a few of our German lines, as well as Chippewa, Cherokee, likely Welsh and Dutch, but not about the Swiss.  I feel like slicing up some Swiss cheese with my Swiss Army knife and chomping down some Swiss chocolate while listening to yodeling and alpenhorn music as I ski the alps near those mountain goats and cows with the bells.  (Needs more cowbell!)  Besides all the Swiss family Robinson (there were no Robinsons), I found a few branches from the Alsace-Lorraine region of Germany.  The region has changed hands numerous times between France & Germany over the centuries.  So, through all this, we may even have French ancestry.  French!  Do the French make good Swiss chocolate?   Oui.
In the records I saw an alternate spelling for Van Gundy as Von Gundy and Von indicates nobility, but that could just be a misspelling, so I iced my excitement (especially since I'd come to a dead end on that line).  I discovered indirect relatives born in China about 200 years ago, but they had Western names and I suspect they might have been family of missionaries or statesmen or merchants or whatever weird job put Europeans in China back then.  There was one direct family line with 3 or 4 brothers who fought in the American Revolution after coming over from Switzerland.  Pretty cool.
After I'd done all this research, I spoke to my dad about what I'd found and was told that he'd learned from great-grandma Van Gundy, shortly before she died, that the Ben Franklin connection was more indirect and roundabout than we'd grown up believing.  It turns out that my great-grandma's sister's daughter married a Franklin and the connection is through that.  Disappointing.  I'd hoped there was some genius Franklin gene floating around that was stuck in my head just waiting to pop out and usefully manifest itself in the near future, but no.  I also learned from my dad that through marriage we're related to a wrestler called Wild Red Berry, who wrestled in the 30s, 40s, and 50s.  I even found video footage of his wrestling matches on Youtube.  That was kind of cool and weird.  Weirder still, in the 90s we lived in the same small Kansas town this where this guy had served as mayor and head of the parks department.  My brother Chris even played little league baseball in a field named after him.  We'd had no idea.
Researching my ancestors made me really feel connected to them (I mean, besides the genetic disorders).  I may not learn much about them, but I'll see names, dates of birth and death, places and even an occasional story or 2.  I'd like to go through each name (there are a few hundred so far) and Google to see what stories I can scrounge.  I've found a few already.  I want to discover what they were like.  I've seen photos of now dead great-great-grandparents I never met put up online by relatives I don't know.  What can I learn about these people who lived scores or hundreds of years ago?  They each had their unique characteristics.  Their lives had meaning and in a way, when I think about, talk about, or research them, they kind of live again, if only for me.
I may not be directly related to Ben Franklin, but I have many interesting people in my family history, many still living.  I'll have to harass more of them for stories.  They may not be famous, but they're still pretty nifty.  I got a few new leads from my dad, so I'll have to track those down.  I still have mom's side to fully discover and that should be interesting (I need to read those big red Hinkle books).  Besides, family legend has it that great-grandpa Seitz left Germany and came to America just before WWI leaving behind a family castle along the Rhine River.  Oh, and there are 2 NBA basketball coaches named Van Gundy and maybe we're cousins.  There's enough to keep me busy for awhile.  Perhaps one day I'll take an exploratory trip to Switzerland and see if I can round up some swell Swiss family tales.  Maybe buy an alpenhorn.  And lots of Swiss chocolate.
The secret word is alpenhorn
Semi-Related Links:
Children, Braid Your Nosehairs
Family Advice: A Reversal (Sort Of)
Will Your Siblings Use Up The Good Names?
Subscribe to the Domesticated Bachelor through RSS or link to one of the buttons below! Do it!
Related Blogs
by Jonathan B Perry
I have good news and I have bad news.  First, the bad news:  Guys of 2020, there will be a surplus of competitive males as there never has been before at any time in history.  30 million extra men to be approximate.  In just 10 years there's going to be such a glut of guys of marriageable age it'll seem like one endless frat party where there are maybe 2 women in the back.  Granted, these extra men are in China where the population is about 1.5 billion (and where 30 million is relatively small, though not really), but still they're not all going to stay in China and there will likely be some domino effect flopping around the globe, so you'll need to work extra hard to trick women into hanging out excessively.  Drat.
Now the good news:  Ladies of 2020, there will be a surplus of competitive males of marriageable age, so the dude options will be greater and more desperate than ever before.  The scarcity of women makes each of you even more valuable (think higher pedestals) and you can be choosier and make guys grovel more.  Many of you look forward to this.  If you hold out just a little longer, say 10 years, some of you current bachelorettes might have better luck snagging younger, awesomer studs.
Of course this imbalance all stems from China's one child per household policy that often saw families choosing to have boys as their only child and to abort the female fetuses as a practice of population control which retained males who would theoretically provide better for their families.  It's been called gendercide.  Now aware of its severe gender imbalance, the Chinese government is making a strong push to the public to look more favorably on girls, hoping to stem the tide of aborted females.  So far it's only been slightly effective (there are banners saying stuff like "Girls are swell"), and it will still take generations for things to even out.
This sort of situation hasn't really been an issue in previous civilizations.  You could draw some similarities with the imbalances after the world wars, when there was a surplus of women when many Johnnys didn't come marching home again.  It's believed the feminist movement even gained traction from the higher number of single professional women of the 1920s and 1930s.  I just thought I'd point that out.
Concerns have been voiced that this excess of single men, unable to mate, may create many more societal issues in the years to come:  wars to cull the surplus males, a rise in crime (particularly rape), an increase in prostitution, a rise in homosexuality, and many more sloppy apartments.
Since it will take many decades to correct the situation in China, what other solutions might there be to help the problem?  I've come up with a few ideas and only one of them uses bachelors as human batteries a la The Matrix.
Chinese Bachelor Solution #1:  Promote religions, like Buddhism or Catholicism, where bachelors become monks or priests.  You might have to lure them in with church bingo at first, but do whatever works.  This would require a moderate change in the government's stance toward religion (I'm not pushing either religion.  Baptist or Methodist monasteries could be developed, just to mess with things.).
Solution # 2:  Chinese mail order grooms-  When one thinks of arranging spouses to order, mail order brides from places like Eastern Europe spring to mind.  Now with many young Chinese men potentially unable to find mates nearby, they'll need to cast wider worldwide nets and this may include making themselves available for marriage by mail order.  Bigger boxes.  More air holes.
Solution # 3:  Human batteries a la The Matrix– In the movie The Matrix people lived in watery pods and existed in a dream state, while powering the evil machines.  Never mind that you could put caviar on iv and call it a spa weekend.  Forget that Beijing and Shanghai could be powered cleanly and cheaply from now until Chinese New Year.  No, I suppose it's not an option (or even a good human rights thing), unless you just do Gilligan-style power-maker  with the coconut bicycle making electricity (come to think of it, gyms around the world could do this bit and harness the power to run their tv's).  I'm sure there'd be some way to do it, though it doesn't really fix the mating thing, does it?  Hmm.  Forget this one.
Solution # 4:  Men dating outside their age groups- I realize guys throughout history have been dating outside their own age group, but it's usually been scary old rich guys dating younger helpless and/or money-grubbing women (the dudes have more cows for dowries).  The Future Army of  Chinese Bachelors (cool band name!) may need to consider the limited options and be more open to dating older women, widows and retirees even.  And if China can find way to pump out extra females (without aborting males), say through in vitro fertilization or some genetic magic, then the extra dudes could date younger without skewing things too much for the younger guys.
Solution # 5:  Cryonics?  I'm just putting it out there.
Solution # 6:  Find female alien life.  I think there have been B-movies about this.
Solution # 7:  Import women- Let's face it, China may do well to find incentives to import women to China.  It might be useful to pay women to move to China and marry Chinese men.  I can see it now, in 10 years time there will be specials on 20/20 and Oprah about how China has an army of bachelors just waiting for all available women to come for marriage and money.  Perhaps special women-only schools could be set up to draw female students from around the world.  Maybe it could be something like marketing the acrobat schools to Bollywood dancers (that's the group I'd aim for).
So, China has a big problem, but there are often viable solutions to difficult problems.  Hopefully something can be done to improve the potential for millions of Chinese, while avoiding a catastrophic future involving millions of filthy bachelor pads.
When I re-edit, I'll find a way to sneak in Bowie's song "China Doll".
The secret word is imbalance.
Vaguely Related Reading:
Logan's Run and Population Control
Not Really Related, but Nifty Reads:
My Bucket List:  100 Things To Do Before I Die
Celebrity Crushes: The Girl Next Door
Celebrity Crushes: Is Elegance Elitist?
Sound Of Music DEATHMATCH!!! Liesl v Maria
Getting Colder:

Which Is Your Type? A Pseudo-Cosmo Quiz
The Prophecy Of The Tornado And the Trailer
How NOT To Decorate The Bachelor Pad
Bachelor Step #1: THE BACHELOR PAD

Subscribe to the Domesticated Bachelor through RSS or link to one of the buttons below! Do it!
(I was going to title this "Nicknames:  Another Tool in the Guy's Arsenal", but decided it sounded fairly perverse, so I didn't.)
Jonathan Blarney Perry
I like it when someone gives me a nickname.  At least a good, non-insulting nickname.  Nicknames are for friends and buddies.  They're cool and kind of endearing.  It's said that one's name is one's most precious possession, so it's important to mess with those, but only a little.  And really, being the nickname-giver grants you a certain power.  It's like naming a baby and if the nickname sticks and everyone starts using it, then you've really started something.
I was kind of named for my Uncle John, but not really and my mom doesn't like it when people call me Jon.  She's weird.
Nicknames I've had:
Jonny (by family & people who've known me since I was little)
Jon (by a lot of my friends who don't know my mom)
Donger (High School.  Sounds worse than it is.  Maybe.)
Goat (Mostly by Roland & Lenny.  I use it for them, too, and randomly for everyone else.)
Jonathanatos & Thanatos (Thanatos is Greek for death.  I took a year of Greek in college.)
JonPerryJonPerry (Teri D probably started it)
JB (My dad calls me JB.  It was the name of one of his mentors.)
Jap (This was in middle school.  Not sure if anyone besides Elizabeth Franks called me Jap.  I had a huge crush on her.)
Jack (a nickname I've envied, but it's only been slightly used for me)
Jon-dong-athan (by my brothers.  My bro Chris sings a little song when he says this twice.  Kind of cool.)
JonnyBear (by my friend Heather.  She's too cute.)
Wookie (Randy in the office calls me this a lot)
Jon-Jon (my old friend Jeannine calls me this)
When I visited Taiwan, my friend Roland helped me pick a Chinese-y/Taiwanese-y name, 'Pan Yuwehan,' so I could have a rubber stamp made using Chinese script.  It was pretty awesome to see my Chinese nickname in pictograph and perhaps one day I'll find a use for the stamp, maybe in government work that involves rejection letters to Asia.  At least I didn't get a tattoo.
'Tyson Chicken'-Besides being a dude thing, giving nicknames is useful as a mnemonic device.  I seem to have a crap memory, so sometimes I'll give people nicknames so I can remember what the heck to call them.  Recently 2 engineers started working at the office and I found it helpful to call Tyson 'Tyson Chicken' and Paul 'Paul Bunyan' (Paul is tall, but Tyson is not a chicken, so…).  For years I confused Larry and Gary in another part of the office, though they look nothing alike, and eventually figured out that since Gary has gray hair it was helpful for me to think of him as Gary the Gray (like Gandalf the Grey), but I'll never actually call him this, since he might not be so keen.  Also 'gray' is an anagram for 'Gary', so bonus.  Anyway, I no longer confuse them.
'Paolo Weisskopf"-Some nicknames are just fun.  I know 2 other Pauls from work, one I call 'Paolo' or 'Paulina' (at some personal risk to myself), and the other is a former supervisor who's now retired, Paul Whitehead.  For Paul Whitehead I came up with 'Paolo Weisskopf'.  'Paolo' is a Portuguese name and 'Weisskopf' is a German rendering of Whitehead.  This made me think of Nazis who escaped to South America (Brazil in this case) and gave their children mixed language names.  I never called Paul this (that's a shame) and certainly never meant anything bad by it, but thought it was awesome and should've been widely and obnoxiously used.
'Stinger'-One of the techs I work with is Brian Walker, who I refer to as Brian Walker 'Texas Ranger'.  He always wears a cowboy hat.  I just found out that another tech, Bob, has been called 'Boonie' for 32 years by the other techs because he lives way out in the Boonies.  This is useful since it can be rhymed with Goonie, loony, and Clooney.  Maybe 'Debbie Boonie'.  Bill has been called 'Stinger' since he got into a nest of yellow jackets and had to visit the ER because of a bad reaction.  I've called my college friend Allison 'Allisonogram', Pat 'Patapan', and Sue 'Sousaphone', but they ignore me, which is probably best.  Usually anyone I know named Scott becomes 'Scotland' or 'Great Scott!'.
'DJ Mice-K'-My buddy Randy at work (he calls me 'Wookie') admitted he was called 'Nerd' a lot growing up, but now is known as 'Wizzer' (not Wizard), because of his great betting and gambling prowess.  I asked around and learned Dave Micek was called 'Meats' (for Micek) and Matt was called 'Bones' because he's very tall and thin.  Great names, but they could use some fresh stuff.  For Dave Micek, I'm pushing the name 'DJ Mice-K'.  It's only mostly stupid.
'Hildegard'-Randy mentioned picking out the Catholic confirmation name 'Francis' when he was a kid.  When I discovered the coolness of the confirmation names, I asked a few of the other Catholics.  Dave's was 'Paul'.  One woman was also 'Frances' and another claims to not remember, so I suspect it to be something awesomely embarrassing like 'Gertrude' or 'Hildegard'.  Picking a confirmation name is like Asians picking out their Western names.  It seems that in grade school many Asians pick out their own Western nicknames.  It's kind of cool, but if you'd picked out your own name as a kid, what would you have chosen?
'Mikhail'-My friend Mike, a former Mormon, once told us he was given the Mormon temple name 'Mikhail', which at first he thought was pretty great considering his name is Michael, until he overheard other guys in the temple that day getting the same special name.
'Tenderloin Vanderbeek'-I like trying out different nicknames on friends.  It's great to mess with them until something really fits.  In emails, my friend Cami (who's been known as Spam, Moose and Chamomile for years) and I use different nicknames each time for both ourselves and for the other person.  For example, in a recent series of exchanges, she called me Red Man, Monkeyboy, Yoda, Spanky, Cracker, and Captain Congo and referred to herself as Django, Moosetart, Otto, Tarbaby, Samurai Smack, and Scarlet Pimpernel.  Then I called her Moosey, Super Bon Bon, Manhands, Hydroponic Mosquito, Crotchety Crocheter, and Racist Casseroler while referring to myself as The Waffler, Chewbacca, DonkeyKongKublaKhan, Blarney the Gaelic Dinosaur, Snorklefish, Cap'n Crunch, Kim Jong Ill, and Tenderloin Vanderbeek.
'Geritol'-Of course, nicknames can also suck and be hard to shake.  You always hear about those bad names kids get in school that turn them into the next David Koresh or Ted Kaczynski.  Darrin and I use nicknames as good-natured insults.  Darrin, who harasses me about my old man car, usually calls me some variation of 'Old Man', which is ironic because he's about 5 yrs older than I am and is pretty gray. We go back on forth on names along the line of 'Grandpa', 'Geritol', 'Ben Gay', and 'George Hamilton' (Darrin is tanned).   I think we're still looking for the best nickname insults, though I'm proud to have told him "Go fold your Cosby sweaters, grandpa."
Quality nicknaming doesn't always come easily.  They often take time to figure out and shouldn't be forced.  You have to try them on, like a Cosby sweater at the store.  It might look nice on the rack, but end up looking crappy on you in the dressing room.
If all else fails, I'll call you 'Goat'.
Famous Nicknames: Wild Bill Hickock, Johnny Appleseed, Lucky Lindy, Lady Bird Johnson, Billy the Kid, Buffalo Bill
Famous Sports Nicknames:  'Shoeless' Joe Jackson, Reggie 'Mr. October' Jackson, Karl 'The Mailman' Malone, Earvin 'Magic' Johnson, Wayne 'The Great One' Gretsky, Michael 'Air' Jordan
What nicknames do you like?
The secret word is Tenderloin.
Related Reading:
Will Your Siblings Use Up The Good Names?
Children, Braid Your Nosehairs
Couples vs Singles: Socialization
Subscribe to the Domesticated Bachelor through RSS or link to one of the buttons below! Do it!
As you may or may not know, I've been shedding pounds like snake skin since last April.  It had a little to do with improving self-confidence, especially around quiet bookish girls, and I've kept at it.  I lost 25 pounds pretty quickly (in 12 weeks), and eked my way to 30 lbs by Labor Day, but it's been slow going since.  I've even lost another 6-7-8 pounds, depending on the day.  That means as much as 38 lbs total since April (today is a fat day, so it might only be 36 lbs right now).  I've hit a wall, though.  I can't quite break the 40 pound barrier.  Inspirations and motivations have waned steadily the last few months and that might have contributed to my stagnation.  Also, my front lawn has become tundra and I seem to have rediscovered sugar (mostly chocolate).
Being a few pounds shy of 40 pounds for 2-3 months is a bummer, but I did well not fattening up for the holidays.  In fact, when I was in CA visiting family for Christmas, I went on several walks in my grandparents' neighborhood.  This, of course, was a necessary therapy that kept me from madness around certain relations, but it also kept me from becoming the Christmas goose.  In fact, I weighed in thinner than both my brothers for the first time in forever which is pretty awesome.  Now that my birthday is next week, Groundhog Day, even, I feel it's my duty to force the issue and finally reach the mythical 40 pounds by my birthday, even if I have to starve myself that last 36 hrs.  I'm pretty sure I could do it.  It's 3-4 pounds in about 7 days, so it'll be close, but I've done it before. It would be a cool birthday present.
Hitting those round marks is great.  20 pounds.  25.  30.  35.  By April Fools I'd like to hit 50 pounds.  Heck, why not by St. Patrick's Day?  Oh, the dream of thinness lives on.  Getting those good abs back by summer would be swell.  From there, who knows.  Maybe Gandhi-chic.
The secret word is bear.
Related Reading:
Becoming A Domesticated Bachelor: Step #4. Learn To Cook
My Bachelor Weight Loss Secrets: Sticking It To The Terrorists
Becoming A Domesticated Bachelor: Steps 8 & 9. Proper Socialization/Throw Parties
Becoming A Domesticated Bachelor: Step #3. Shape Up, Fatty
Stuffed French Toast By Sam The Cooking Guy
Subscribe to the Domesticated Bachelor through RSS or link to one of the buttons below! Do it!
by Jonathan Bogman Perry
I think leaf-peeping sounds like it should be a punishable offense.  It would be cool to do, but it just sounds dirty.  Anyway, it's autumn and time to start taking care of the fallen leaves and wrap up the yard work.  For about a decade after college I lived in a duplex apartment that was pretty unfit for humanity.  There were advantages, though, one of which was the great non-problem of yard work.  I didn't have to do it.  It's one of those odd benefits of apartment living.  I actually lived in a basement duplex, so there was a yard on the property and, from time to time, such as when I was dissatisfied with the state of the acreage, I took matters into my own hands and cleaned up my area by trimming back some bushes that had taken to regularly whacking me or removed a discarded refrigerator which has somehow blown into the yard.  Yard work wasn't required of me by the lease, nor, apparently, was it required of anyone.
The thing is, I do actually enjoy yard work and have fond memories of doing it in ages past.  I find it even more satisfying now to do at my own place.  I affectionately remember during my youth going kicking and screaming to mow the lawn at the threatening behest of my folks, whom, I should add, I love dearly, but might have been evicted by the neighborhood association had it not been for my infrequent yard maintenance.  During my near decade of college I would come home once every few months to find that the jungle in my parents' backyard had managed to swallow most of the yard tools and several large and endangered mammals.  Of course, I wasn't the only one to do the yard work.  I do have 2 younger brothers, but either one brother managed conveniently to be overseas in Europe for the school year, or the youngest had a debilitating broken toe which prevented any physical activity besides walking 2 miles to school each way or dancing in the school musical (I really wanted to say 'run on the track team', but that's just not so).
I enjoy raking leaves during the crisp autumn afternoons, building great piles of arboreal death, but I would enjoy dental surgery if it were outside in the fall.  Autumn is always thrilling with the fantastic foliage colors of red, orange, brown, and yellow and the nip in the air that promises a brisk winter right around the corner.  These are the days of the holidays and refreshingly happy vacations.  It's when sports get fun again.  I'm sure I would very much enjoy New England in the fall.  It's a fantasyland that I have yet to experience.  Perhaps one day when I finally grow up and become a man I'll move out to New England just so I can be there in the autumn to happily rake up the mountains of fallen leaves that have swallowed the yard and a lost California Condor or two.  I'd probably just leave them there.  They're so pretty.  The leaves, too.
Vaguely Related Reading:
The Prophecy Of The Tornado And the Trailer
How NOT To Decorate The Bachelor Pad
Bachelor Step #10: Collect the Right Toys
Bachelor Step #1: THE BACHELOR PAD
$15 Million Ultimate Bachelor Pad

Tenuously Related Reading:
Logan's Run & Population Control
Sound Of Music Death Match!!! Liesl v Maria

Celebrity Crushes: The Girl Next Door

Which Is Your Type? A Pseudo-Cosmo Quiz

Subscribe to the Domesticated Bachelor through RSS or link to one of the buttons below! Do it!
by Jonathan Biped Perry
I'm two years older than my brother Jay, but for the last several years people have assumed that he is the older brother.  At least since college.  It may be because he has a professional job where he has to wear a suit, however much he may try not to (when I wear suits to work people ask if I have a job interview and look at me suspiciously).  Jay may seem older because he's more of an Alpha.  It may also be that he has a wife and a son, whereas I have cupboards full of chocolate and still talk about getting a rock band together.  But it is possible that people think he's older because he looks older.  His hairline has receded more than mine (though he still has a fine head of hair) and I'm not sure that he's discovered the magic (or vanity) of facial exfoliation and moisturizer (I only use a little.  I'm not too weird.).
Last Christmas Jay and his family and I vacationed together in CA to see our living ancestors and random members of the family tree.  After a Christmas church service, a man I was talking to made a reference to my father visiting with me.  He was actually talking about my younger brother Jay standing right behind me!  I couldn't believe it.  How excellent is this?  I suspect that the old chap had poor vision or there were strange shadows across Jay's face that aged him 30 years, or maybe he just misspoke, but it was still wild to hear!  At least for me.  Jay wasn't so keen.  This will certainly be one of those annoying things I'll bring up for decades to come.  "Jay, remember that Christmas when the guy thought you were my dad?  That was awesome!"
For years when we were growing up people often thought Jay and I were twins, though it may have been mostly because they were only seeing us from a distance and maybe the twin talk was more in a fraternal twin sort of way.  I could see that.  We do look a lot alike.  But having my younger brother mistaken for my father is killer and I don't suppose I'll ever let Jay live that one down.  Now, if I can only get people to think my youngest brother Chris is my mom, that would be swell.
Have you had weird experiences like this?
Related Reading:
Ignoring Adult Responsibilities
Family Advice: A Reversal (Sort Of)
Will Your Siblings Use Up The Good Names?
Couples vs Singles: Socialization
Changing Your Relationship Status On A Social-Networking Site
Subscribe to the Domesticated Bachelor through RSS or link to one of the buttons below! Do it!