Archive for February 2011
NERD NEWS ALERT!!
Diehard "Firefly" fans are finding a new energy for their cause.  The cause?  BRING BACK "FIREFLY"!
Resurrect a space cowboy cult TV show that died on the vine 9 years ago?  Sure.  Why not?  Though a casualty in a string of Fox's quick show cancellations in the 2000s, Joss Whedon's "Firefly" found a highly devoted and rabid cult-following in its brief run.  Online and mail-in campaigns, as well as paid ads to renew the show at the time fell short, but enough momentum provided for a well-received "Firefly" movie, 2005's "Serenity", giving fans a taste of what might have been.
So where is this renewed fan energy coming from?  From Captain Malcolm Reynolds himself.  Nathan Fillion, who currently stars on
ABC's "Castle", recently told Entertainment Weekly that he'd love to resume his role as Mal.  Going a step further he said, "If I got $300 million from the California Lottery, the first thing I would do is buy the rights to "Firefly," make it on my own, and distribute it on the internet."
Now, of course, online reactions to this off-the-cuff statement have started pouring in.  Former writers have told Twitter that they'd love to be involved.  Jewel Staite, who played the sunny mechanic Kaylee said she'd be on board.  A new website, "Help Nathan Buy Firefly", even started as a means to collect pledges that would turn into donations should "Firefly" be revived.  The site's Facebook page has gained nearly 50,000 members in only 5 days!  Another Facebook page, "Bring Back Firefly", has also seen a surge in members as interest has blown-up.
While its mix of western and outer space themes was lost on some critics, "Firefly" was critically acclaimed, notable for its design and special effects, winning an Emmy for the latter. Additionally, strong writing and a great ensemble cast made it a fan favorite. Besides Fillion and Staite, the cast included, Ron Glass ("Barney Miller"), Morena Baccarin ("V"), Summer Glau ("The Cape"), Gina Torres ("Alias") , Adam Baldwin ("Chuck"), Sean Maher, and Alan Tudyk. Christina Hendricks ("Mad Men") had a recurring role.    -Jonathan B Perry
Join the fight.  Help bring back "Firefly"!
The secret word is devotion.
Vaguely Related Sci-Fi Stuff
Logan's Run & Population Control
Subscribe for free to the Domesticated Bachelor through RSS or link to one of the buttons below! Do it!
by Jonathan Baldspot Perry
I just ended the 2011 Great Mustache Experiment after only 6 days. It was a hideous failure.  There's this one stubborn spot that won't grow any hair. It's where my Hitler mustache would be, but instead of the lip of the Fuhrer (surrounded by my normal hair, of course), there's a huge vacant ugly gap. It seems all the men in my family have similar mustache issues (and we should start our society, the Brotherhood of Bald Spots.  There would be secret handshakes and meetings in a treehouse where we'd have our manly tea parties and bemoan our inability to grow certain facial hair.  Ah, bonding.).
I could grow out a Fu Manchu, if I was really desperate and into Karate, but it's still the same thing.  Ugly on me.  And I'm sorry, there are no photos of my 'stache attempt.  I want to be free of any visual records.  Imagine a 14 year-old boy, just past puberty and trying really hard to grow a mustache, but it just looks like ugly dirt.  That's how mine looked.  Like that and someone's hormonally abused grandmother.
No, to grow out a proper mustache I'd have to find a Ted Kaczynski cabin somewhere in the backwoods so I could grow it all out in solitude for months.  I might even get some writing done.  Since months in a cabin would be difficult to maneuver at this point, I'd have to try something else.  A beard-growing mask, for instance.  Maybe brown marker.  Instead of these, though, it might be best to wear a falsy Hitler mustache just to fill out the blank spot until I can do the necessary comb-over.  Apparently my dad does the mustache comb-over, so it's a thing.
I mentioned my mustache growth attempt to a female coworker after the fact who admitted she hadn't noticed anything strange growing over my lip.  She also cited something about my baby face (which further cemented her place as one of my favorite coworkers).  I guess it did just look a little like dirt from the wrong angle.  My testosterone must be channeled to more important things.
It would seem some people just aren't suited for mustaches.  It's a little disappointing to think you might never be able to grow a good Magnum P.I. mustache.  No Burt Reynolds or Alex Trebek facial hair.  No Snidely Whiplash.  My mustache envy will have to relax.  For now, I'll have to settle for the 5 o'clock shadow meets Amish man scruff.  That'll have to do.  At least until I can book my Kaczynski cabin.
(I totally didn't say anything about mustache rides.)
The secret word is combover
Must Read Links
Children, Braid Your Nosehairs
Domesticated Bachelor Step # 3:  Shape Up, Fatty
Subscribe to the Domesticated Bachelor through RSS or link to one of the buttons below! Do it!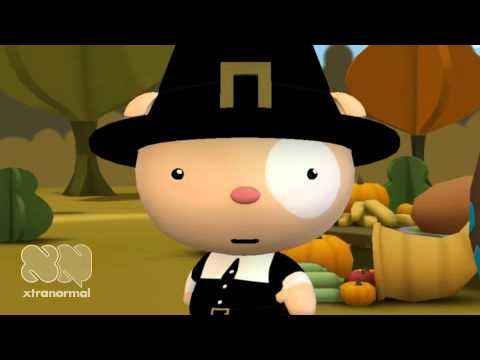 Over Christmas, I visited my brother Jay & his family & our recurring themes of obnoxiousness included the young Willow Smith's "Whip My Hair" & Far East Movement's "Like A G6". One early holiday morning, Jay woke me up blaring "Whip My Hair" at an alarming volume. It was special (yeah, we're in our 30s).  Short of making an awesome Mashup of "Whip" & "G6" to immortalize this memorable holiday moment, I've made an animated video. Sort of. I used Xtranormal's awesome online software & of course they're running a contest now, so I entered it & whoever gets the most views by the end of the month wins $1000!  So, watch this short over & over until you memorize it & get sick.  Oh, and you can enter, too, if you really want.
Here's a description of the video:
Verily, dost our Pilgrim recount a tale of Coachella and the hair whipper. Our Indian mostly has food on his mind. Like a G6.